Please sign in so that we can notify you about a reply
Our rose gold moonstone backdrop necklace adds an elegant touch to dress up a bridal gown with a bare back. Handmade for the bride in a lariat style with natural moonstone gemstones that have flashes of blue color. A dainty wedding necklace designed to compliment your dress. Try pairing with our moonstone earrings with a 1 inch drop if you would like to make a set. Moonstones are 8-11mm teardrop briolette shaped and 4-5mm faceted rondelles.
Necklaces are made in your choice of 925 sterling silver, 14K rose gold filled, and 14K gold filled.
These necklaces are made in 26 or 28 inch lengths in a pull over style and are long enough to fit over your head.
The backdrop shown is a 26 inch length with a 6 inch drop and the model is petite.
About Moonstone:
Moonstone is a natural gemstone in the feldspar family of minerals known for its blue flashes of color. The shimmering effect in the moonstone is called adularescence. Moonstone has a unique crystal structure that creates this optical phenomena by alternating layers of albite inclusions and layers of orthoclase. This creates a whitish-blue sheen of color as the light enters the stone and bounces back. Some moonstone will display tiny dots of rainbow colors in the stone when turned in the light. Moonstone can be found in many places around the world, with the most popular deposits in India and Sri Lanka.
You can click the link below if you would like to see more wedding jewelry from our shop:
https://goimagine.com/lindasje...
You can click the link below if you would like to see more moonstone jewelry from our shop:
https://goimagine.com/lindasje...

Materials:
Moonstone gemstone teardrop briolettes 8-11mm and 4-5mm faceted rondelles
925 sterling silver, 14K gold filled, and 14K rose gold filled:
1.2mm cable chain
2mm round beads
5mm jump ring
26G half hard round wire
20G french hook earwires
Measuring for a back necklace:
1) Take a long piece of string and place the center of the string in front of your neck (cut enough for the 26-28 inch length that fits over your head and cut an extra piece for the drop).
2) Bring both ends of the string around to the back, and then bring them together to form a V.
3) In the front, pull the string forward slightly to adjust the length either in a shorter choker or longer pendant style, whichever way you would like to wear it. Then readjust the back slightly where you would like to form the V.
4) Measure at 26 and 28 inches to see which length fits best, making sure it can easily slide over your head
5) Then from the V in back add a 3, 4, 5, 6, and 7 inch length of string (or two for a double strand) to see where you would like your drop to fall.
6) Make sure that when you measure, you are keeping in mind where your open back dress or blouse falls. It may be best to measure while wearing your outfit.
7) If you need a different length just message us to let us know.
You can always reach us at lindasjewelryshop@comcast.net if you have any questions or click contact us.
We do not take returns on earrings due to hygiene reasons.
All Orders $35 and over receive FREE SHIPPING
Jewelry comes in a gift box with a bow ready for gift giving.
What we include:
Your jewelry will arrive in a gift box with a bow along with:
instructions on how to care for your jewelry
information about your gemstone
a free little gift just for you!
Thank you for vising our jewelry shop,

Linda and Joe
How its Made:

We designed this necklace with the front to be worn in a choker style and the back in a lariat style with the drop free floating on the chain.
The front of the necklace has little moonstone rondelles with tiny beads wire wrapped onto the cable chain.
The backdrop is made with 3 little moonstone rondelles dangling the cable chain with a moonstone briolette for the drop.
Earrings are made in a simple drop style with the moonstone briolettes dangling from french hook earwires.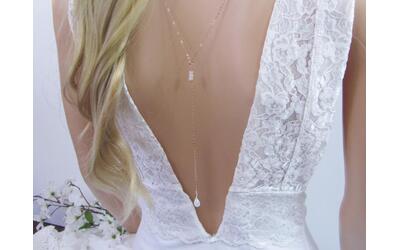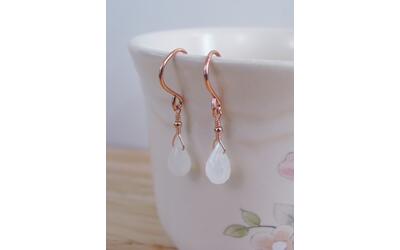 Welcome to Linda's Jewelry Shop! We are a family business in New Hampshire creating handmade sterling silver and gold filled gemstone jewelry.
How it all began:
After 23 years working as a registered nurse I found myself needing to make a change in careers. I had always enjoyed creating things, so I began jewelry making in 2014 and started Lindas Jewelry Shop. I loved working with all the different gemstones and metals and found the possibilities for designs were endless!
As things became quite busy, my sons Joe and Bill joined in and we formed our family business in 2015. Since then Bill has moved on, and today Joe and I work together running our business and creating all our jewelry pieces. Joe is my go to when stones are hard to set and he has a great eye for design.
What we love about jewelry making:
We love that there are always more gemstones to discover and more skills to learn in jewelry making. It is one of the remaining crafts that cannot be machine made or mass produced. We would love to learn more metalsmith techniques next! It is such a rewarding feeling when someone purchases one of our jewelry pieces to give to someone special.
What are we working on now:
We just added a wedding jewelry collection to all our shops. We are planning to add jewelry and gifts for the wedding party coming soon.
We have been working on adding more of our jewelry items to our new Goimagine shop (about 75 to go....). We chose Goimagine as our new marketplace to sell because of its mission to help homeless and hungry children in need by donating profits to children's charities. We also sell our jewelry on our website store at lindasjewelryshop.com and the Etsy marketplace.
What we are planning next:
We will be hand forging earwires soon and we are working on some designs in sterling silver, gold, and rose gold. Down the road we hope to do a few craft shows and gem shows and make some local connections. We continue to add new gemstones and designs to our collection.
Please feel free to reach out to us with any questions, or if you would like us to design something special just for you.
Thank you to all our customers for your support,
Linda and Joe
Welcome to Lindas Jewelry Shop. We have added some information and policies below. Please reach out to us at lindasjewelryshop@comcast.net if you have any questions or click contact us.

Can I return or exchange my jewelry?
We want you to be happy with your jewelry purchase. If you would like to return or exchange an item, please email us at LindasJewelryShop@comcast.net to let us know.
Items are to be returned in their original condition unworn and unused in the original box along with the items packaged with your order. For returns please notify us within 7 days and return the jewelry within 14 days. The buyer assumes all return/exchange shipping costs.
Just a few exceptions:

We are happy to design something special just for you, but we cannot take returns on customized orders because they are not items we currently sell in our shop.
We can special order specific sizes for rings from our supplier that may not be available in our listing. Just reach out to let us know. But we do not accept returns on custom sized rings because the settings are special ordered. If you are unsure of your ring size, most any local jeweler will check your ring size for free.
We do not take returns on earrings due to hygiene reasons.
Do you offer repairs?
Sometimes things happen, like pulling on an earring while combing your hair....or little ones that tug on a necklace chain. Please let us know if you need a repair. We do charge a fee to cover costs to replace missing or damaged items necessary for the repair. If we no longer carry the supplies to repair your jewelry (for instance we may be out of a particular gemstone), we will try to work with you to find a solution. Please return the entire jewelry piece, even broken pieces. The buyer assumes all return/exchange shipping costs.
Do you make custom orders?
We enjoy making custom orders and are happy to design something just for you. But because these items are customized for you and are not something we currently sell in our shop, we cannot take returns on these items.
This does include custom size ring settings because we order the setting specific to your requested size.
How long will it take to ship my order?
***We are shipping all orders in 1-3 business days with USPS and all packages have tracking. We are expecting delivery delays that always occur during the holiday rush and now are affected even more by fewer delivery drivers due to Covid. While we will continue to ship all our orders quickly, delivery delays can still occur that are outside of our control. ***

We ship with USPS and offer First Class and Priority options. First Class shipping is free for all orders $35 and over.
Custom orders may take additional time. This usually occurs only if we have to order certain supplies to make your custom order.

How long is it taking to deliver?

USPS made recent changes in October 2021 to first class mail delivery times. First Class packages now are expected to take 3-7 days to deliver in the US and Priority will take an average of 2-5 business days. We do encourage all holiday shoppers to try and shop early to avoid any delays.
Currently the USPS last day for shipping to be delivered in time for Christmas is as follows:

First Class 12/17
Priority 12/18
What if I entered the wrong address?

Please always check the address you entered is correct before completing your purchase. If you entered an incorrect address please let us know as soon as possible so we can make the changes before shipping your item.
If the item ships to the wrong address, it can take quite some time to come back to us. We will notify you when the item comes back and send you a link to purchase another shipping label with the correct address. We are not responsible for items lost due to an incorrect address.
What if I ordered the wrong size?
Sometimes the fit just isn't quite right and you need your necklace or bracelet longer or shorter. Just let us know and we are happy to make adjustments for you. The buyer assumes all return/exchange shipping costs.
How can I make sure I'm ordering the right size?
The size of each gemstone is provided in the item description section under "materials" or under the "how its made" section.
We do offer different chain length options for most of our jewelry items. If you are looking for a different length just let us know.
For measuring necklace chains, the best method is to cut a piece of string and wrap around from behind your neck, bringing both ends in front of you to see what length fits best.
Our backdrop necklaces have instructions for measuring in the item description under "measuring for a backdrop necklace."
For bracelets, you can cut a piece of string and measure around your wrist. We advise to allow a quarter to half inch extra for the bracelet to hang comfortably. Adjust the string to how you would like your bracelet to hang.
If you are unsure of your ring size, any local jeweler can check your size for you (usually for free).
How do I return or exchange my jewelry?
With all returns please notify us first at lindasjewelryshop@comcast.net. You can place the jewelry in the box it came in, and place the box along with all packaging items in a bubble envelope. That will protect the jewelry during shipping. We always advise to add tracking to your package because we cannot be responsible for items lost with returns and exchanges, and tracking will help us locate the package.
Where do I send it?
You can send it to
Linda and Joe Thibodeau
PO Box 343
Somersworth, NH 03878
We will send you a message when your order comes back.
How long will it take to issue my refund?
We issue refunds for jewelry items returned in their original condition within 1-3 business days.
My item arrived damaged. What do I do?
Please let us know right away if an item arrives damaged so we can make it right.
Is our information kept private?
We never share any private information. We will only use your shipping and billing address and any contact information for the following:

To communicate with you about your order
To fulfill your order
For legal reasons (like paying taxes)